If you're passionate about money management, budgeting, and strategic financial planning, an accounting degree could give you the skills you need to start a rewarding financial career.
While many accounting degree holders find work as chartered accountants and analysts, similar occupations are also available in many industries. The analytical and critical thinking skills learned in an accounting program can help prepare you for more careers than you think.
"Thanks to the advancement of auditing software, many functions of an accountant have been made more efficient, allowing for more opportunity for interpretation and analysis," said Keely Griffith, adjunct instructor in business programs at Southern New Hampshire University. "It increases the value of an accounting education because communication and analytical skills are emphasized more."
What will I learn in an accounting degree program?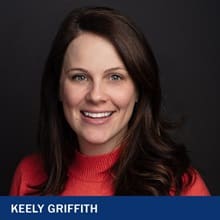 By earning a bachelor's degree in accounting, you can gain a solid foundation of business knowledge applicable to many different career paths.
In an accounting degree program, you will learn to:
Analyze and apply financial rules and regulations
Communicate your reports to internal and external stakeholders
Generate financial records
You can also gain valuable experience in business strategy, risk management, information systems, quantitative analysis, and business ethics.
The degree can also help you explore today's business landscape and develop analytical and critical thinking and strong communication skills to prepare you for a variety of jobs for accounting majors, from financial planning and consulting to budget management and data analysis.
What to do with an accounting degree
Advancing your education can prepare you to enter the growing world of finance. Explore the jobs below to learn more about these alternative careers for accountants:
Is an accounting degree worth it?
Whether your goal is to become a financial accountant, management accountant, or you're interested in alternative careers for accountants, you'll need a bachelor's degree to start your career in the financial world.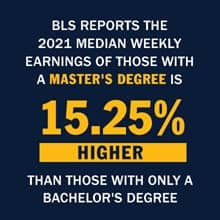 While a bachelor's degree can offer you an entry point into this field, a master's degree will help you advance even further. According to the BLS, the median weekly income in 2021 for master's degree graduates is $1,574. This is 15.25% higher than those with only a bachelor's degree, who earned a median weekly salary of $1,334 in 2021.
Wondering if a Masters in Accounting is worth it? If you are interested in a particular facet of accounting and finance and want to build your overall expertise, earning a master's degree in accounting will allow you to delve into an area of ​​specialization when you select a concentration in taxation, forensic accounting, or auditing.
It's important to make the most of your education by considering your career goals and interests, Griffith said. Getting an internship, taking relevant electives – such as finance, financial planning and economics – and developing soft skills such as communication, data analysis and problem solving can help differentiate a candidate when entering these high-demand financial careers.
"Accountants can no longer just calculate and do calculations," Griffith said. "They need to understand and effectively communicate the story of the data. Employers want to see that you have the technical skills, the strategic mind and the ability to communicate effectively with different stakeholders. »
Learn more about SNHU's accounting program: Learn about the courses you'll take, the skills you'll learn, and how to request information about the program.
Danielle Gagnon is a freelance writer focused on higher education. Connect with her on LinkedIn.